How to Remove Taboola Feed and News from Samsung Phone
Taboola Feed is a public advertising service, who lets publishers recommend videos and articles that are most likely to attract users based on user profiles and browsing habits, and helps publisher websites drive traffic and make money from advertising. Taboola claims that it serves over 450 billion recommendations of content, products, and services to over one billion unique online users every month.
In 2021, Taboola brings the new service Samsung News Feed on Samsung Brazil mobile phones, Samsung users will be offered with a feed with news and content from some well-known publishers. If you are one of Samsung users who has been tired of Taboola feed or Taboola news, this tutorial teaches you how to remove Taboola news and block Taboola feed from your Samsung phone.
---
1. How to Remove Taboola Feed from Samsung Phone
Some people who get disturbed by the ads may don't like the Taboola feed service, and if you are one of them who is looking everywhere to find how to remove that Taboola feed and get rid of the news from your Samsung phone, no worry, you've come to the right place.
Since the Samsung News Feed was built in the homepage of Samsung's standard internet browser, Samsung Internet, you can disable the Taboola feed on the settings of Samsung Internet. To remove the Taboola feed from your Samsung phone, follow the steps below:
Go to Samsung Internet browser;
Tap the three dots in the upper right corner of the screen;
Tap on Settings, Homepage;
Switch the News feed button to "off".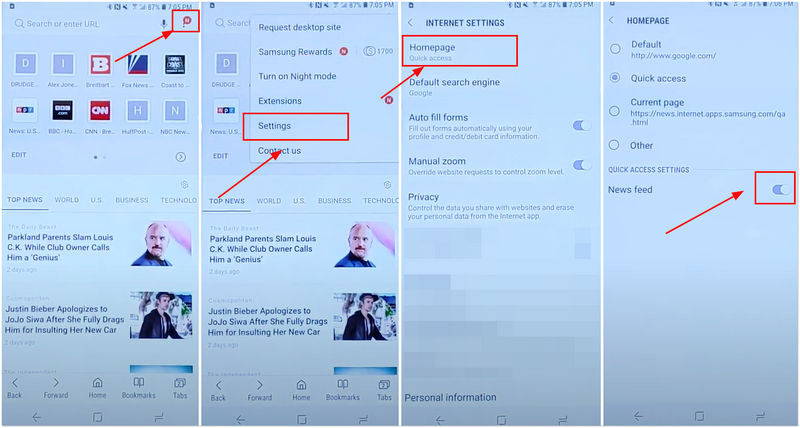 ---
2. How to Remove Taboola News from Samsung Phone?
After removed Taboola Feed from Samsung Internet browser, assuming you installed the Taboola app on your Samsung phone, please remove the Taboola News with the steps below:
Go to Taboola app;
Tap the three dots in the upper right corner of the screen;
Tap Settings;
Scroll down and click on Remove Taboola News;
Tap Remove.
And now you have removed the Taboola Feed and news from your Samsung phone successfully. The steps may vary slightly, depending on the model and system version of your Samsung device. And If you want to have access to the Taboola Feed service on your Samsung phone again, you can enable it on the settings.
---
3. What is Taboola Feed?
Taboola was originally established in Tel Aviv, Israel in 2007 and is now headquartered in New York, USA. It initially provided a recommendation engine for video content. And now its recommendations include various of sponsored articles, promoted products, organic recirculation and third-party modules (e.g. newsletter sign-up, local weather forecast). These recommendations are based on an advanced predictive engine that analyzes massive sources including geography, context, device, social media trends, and more, so as to match the audience with the best contents.
Taboola Feed is similar to these newsfeeds on social apps such as Facebook or Instagram, it brings the familiar scrolling experience that users love on social networks to publishers' sites across the open web. Besides, Taboola Feed also enables you to integrate the comments or display ads units below the article. Thanks to its streamlined user interface, the bounce rates is declined while both RPM and organic click-through rates boost.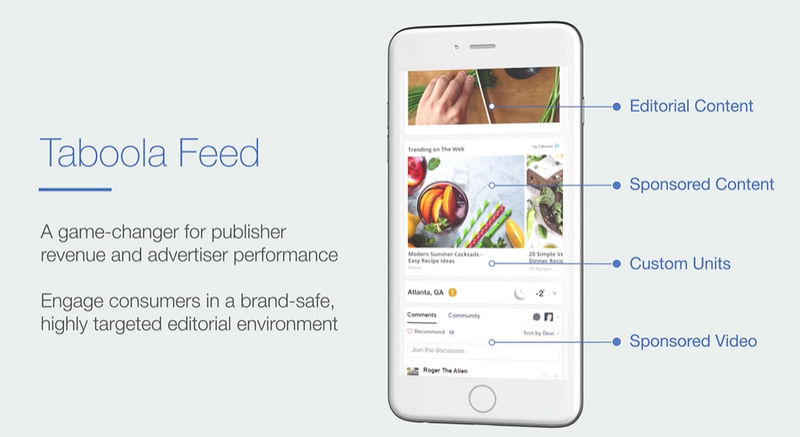 If you search something within a search engine, you will find a lot of relevant information after searching for the keyword, but in fact you don't know what you are looking for exactly. There are millions of information on the Internet, and you may not find what you want. But Taboola is different from the search engines we usually use, Taboola provides a kind of "reverse search". Basically, we use search engines to search for interesting content, and Taboola actively pushes products to consumers who may be interested. These contents are recommended based on user preferences, bringing consumers a better experience.
---
4. Is Taboola News a Virus?
No. As we introduced above, Taboola is basically an advertising service which helps publishers generate revenue. Taboola mainly relies on its efficient algorithms and powerful prediction engines, combined with the world's top media resources, to provide customized content that best suits users' preferences and pushes to consumers. Unlike most traffic tracked by cookies, Taboola's data tracking is not limited by cookies. Therefore, it's not a malicious program, but a advertising service.
You may be concerned that Taboola is tracking your online behavior. Many people have this experience: when you search for an item on the Internet, when you browse other websites later, you often see some advertisements floating on the web page, and these advertisements happen to be the advertisements of the items you searched before. Ad tracking, in simple terms, is to track you (usually based on your device), and then collect your various browsing traces on the Internet, analyze your interests, and send you customized advertisements.
Recommended reading: How to Make Your Phone Impossible to Track?
Of course, if you don't like the Taboola feed news and its advertising mode or get disturbed, you can disable it on your phone or other devices just like the steps we introduced above.
---
Summary
After reading this tutorial, now you've realized what does Taboola do and got the methods to remove Taboola news feed from your Samsung phones. Nowadays we see too many ads everywhere and receive massive pushes on our phone each day, if you feel sick of these news feed including the Taboola service, you can simply block it on your phone and other devices.